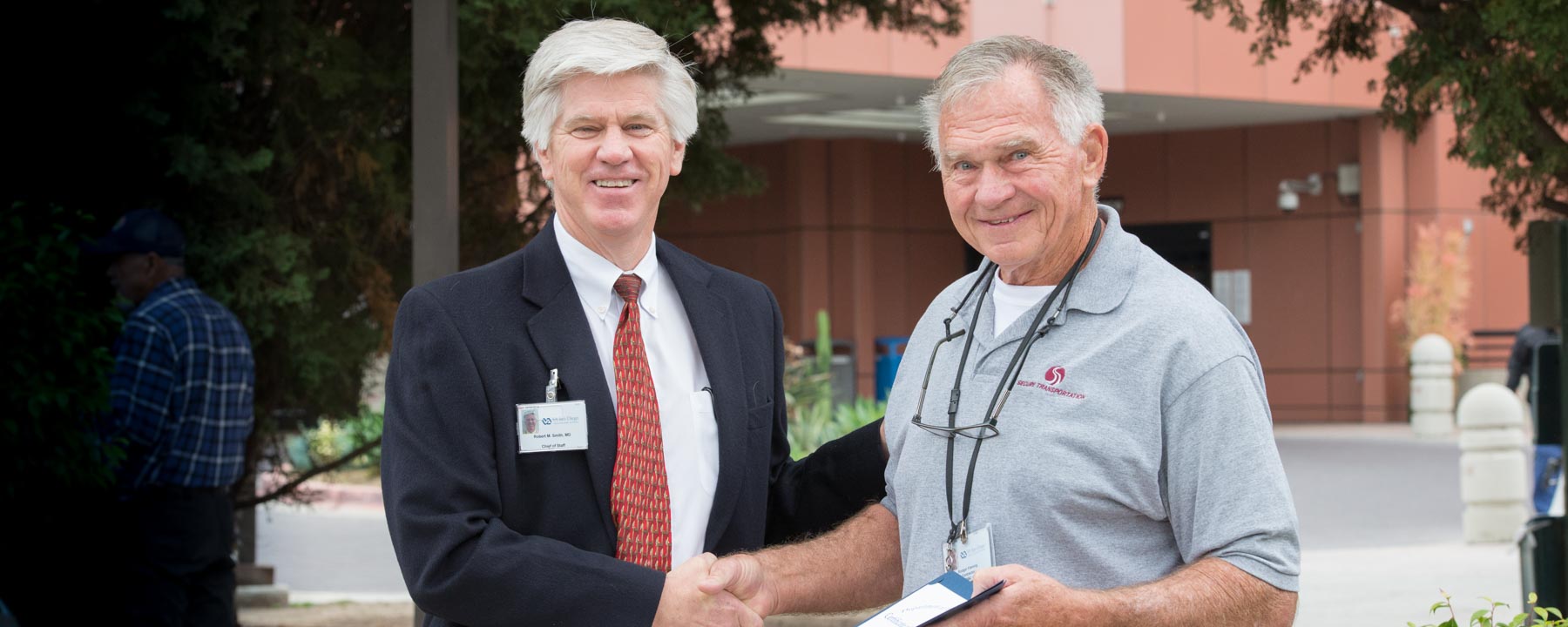 As providers of a non-emergency medical transportation services, it's uncommon for us to have actual medical emergencies during our trips. Still, that sometimes happen, and we train our drivers to be prepared if it does.
Recently, one of our drivers found himself in that unfortunate position when a patient suffered a massive heart attack while on-route. Although he couldn't be saved, our driver, Roger, did everything possible to render first aid, get help, and give the patient the best possible chance.
We're proud of how Roger responded, and we want to share his story.
Roger's Story
I picked up the passenger for his normal morning trip. He was a fairly regular client, and had turned into a pretty good friend. We talked about fishing, and about church. Me being from the Navy and him being Marines, well, we had some kidding going on. But that particular morning, he was quieter than normal.

About 15 minutes into the trip, he gurgled, and slumped forward. I grabbed his wrist, and called his name. He didn't answer, so I immediately called 911 and pulled into a gas station. He was a very big guy. I don't remember how I got him down to the ground, but I did. And thank God we're very well trained with CPR. I started doing it, for 12 or 15 minutes, before the paramedics came.

Then I just called the office. George, our supervisor, was in transit to work, and he was there within just minutes. He's a really good supervisor.

We watched the paramedics work for another 20, 25 minutes, and hitched him up to an IV and heart monitor. They said he had a heartbeat when they left for the hospital.

In a case like that, you get kind of emotional. He was a good friend. And it was a bit nerve wracking. After the paramedics got there, that really kicked in. They said that I had done a good job, and nobody could have been any better. But late that afternoon I found out he didn't make it. I assumed he had a pretty severe heart attack.

We had transported him for about three years. It was a tough loss. He was just a very good person.

Thank God for the good training Secure provided. And I guess I don't think I panicked. I hope it doesn't happen again. I just thank God that he's in a better place.
Certificate of Appreciation awarded from the Department of Veteran Affairs presented by Chief of Staff/Medical Director Robert M. Smith, MD.
Certificate of Recognition by Secure Transportation presented by Al Lindenfelzer.
Share this story